Thanksgiving - DONE
Christmas - DONE
Valentines Day - OK WELL, NOT DONE LOL!
Winter - SOON TO BE DONE (hoping is free)
Brides and grooms will find among my modest selection of wedding invitations, designs that fall somewhat out of the norm, not the typical trendy themes going on here. All my designs for wedding invitations and accessories keep with my store's naturally inspired theme. Many begin with my own photographs from nature or my surround, which once inspired I have worked with to create a unique and often more down to earth and informal, simple feel.
My most popular design is seen below. This came from a lovely memorial to a loved one that I discovered one cold day down at the harbour my husband and I used to live near and frequent quite often. The ink words on the card had washed away with the snow and damp but the rose and baby's breath and other flowers still looked so beautiful and moody. I took an ordinary basic colored photo and designed an elegant, romantic black and white with isolated red in the rose which fades gently to a velvet black on the left side for text.

Little did I know how well this design would be received. It actually could be used to accommodate many different types of events, like a Valentine's Day dance, a black tie event, a large formal birthday party, an engagement party,etc., not just a wedding, by the fact that the purchaser is able to personalize the text to suit their needs.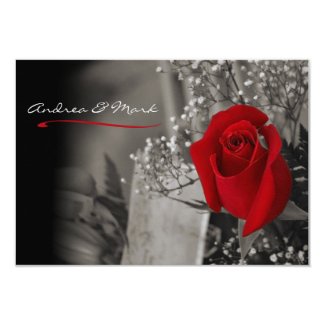 Elegant Fade Out Red Rose Black and White Wedding Personalized Invites
by
artbyjocelyn
Look at other Elegant Invitations at
zazzle.com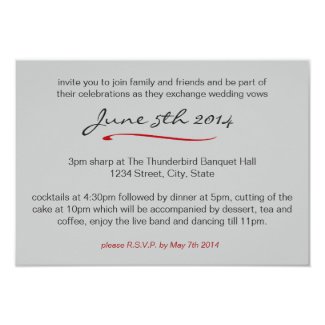 Elegant Fade Out Red Rose Black and White Wedding Personalized Invites
by
artbyjocelyn
View other
Elegant Invitations
My most recent designs are below. My swans are a favourite and I love working with them! As well, I prefer to design informal invitations. If that is up your alley, use the link above to browse my array of wedding invites and accessories available for personalization and purchase on Zazzle :-)
Romantic Swan Couple Heart Pink Ornate Decorative Standard Cocktail Napkin
by
artbyjocelyn
Shop for
paper napkins
online at zazzle.com
Informal Black White Flower Garden Heart Photo Custom Invitations
by
artbyjocelyn
Check out other Black and white garden photo Invitations at
zazzle.com