One evening, coming home, I had this sudden idea of using the design from my table at home. This table was made by my children's Dad years ago, and painted a solid orangey crimson colour. I had wanted to stencil the top with real leaves, in 2 colours, and some gold done with an old body wash synthetic washing scrunch sponge puff thing (the type we all had hanging in our showers at one point). I also bought a wood shelf from a now defunct craft store called White Rose and did that in the same color and pattern. I have this table in my condo in the (tiny) front hall foyer area and the shelf above it to the right.
Since this was my own stencilling work done with real leaves dipped in real paint, on the table top, I figured hey, I could photograph that and possibly work up some designs with it, or use the actual image as the design. I ended up working with the image in Photoshop, coupling it with some hand done texture brush stuff, etc. and I created a couple variations of design with that image of the table top. I have already sold one pillow that I created with one of my finished designs :-)
Pics of the table and 2 of the items sporting the reworked design.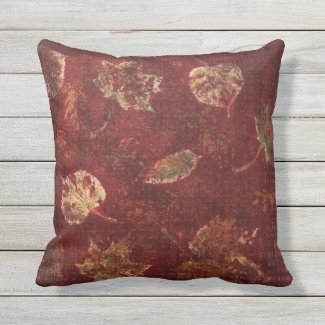 Deep Maroon Gold Fall Leaves Stencil Subtle Tartan Throw Pillows
by
artbyjocelyn
Check out these
Pillows
at Zazzle
Distressed Fall Leaves Subtle Gingham Red Blue Throw Pillow
by
artbyjocelyn
View Leaves Pillows online at
zazzle