I cannot put her name in my tags or even in the title on Zazzle, as I'm sure that that would be considered keyword spamming, but here I am free to mention what I feel my latest design offered on a huge throw blanket via Zazzle reminds me of.
Georgia O'Keefe was one of my favourite artists as a teen, one of my first favourites. I loved her raw, almost erotic, gentle organic bleached bone detail and flower paintings. I adore the south western style in general, stretching right down into Mexico too, where probably much of it originates from.
This design I cannot even recall how I got to it, but I know it began with some photo I shot, played with in graphic software. I then flipped and butted it up together and it created this gorgeous earthy Georgia O'Keefe feeling abstract mirror image design and color palette. A gorgeous throw blanket that would actually look awesome in my and my husband's own place.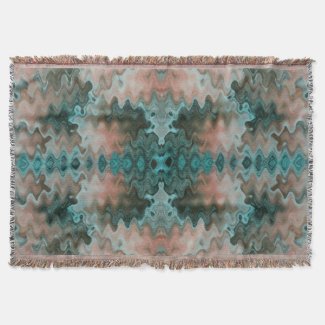 South Western Turquoise Sand Peach Wavy Blend Throw Blanket
by
artbyjocelyn
Find other South western Throw Blankets at
zazzle.com