I seem to gravitate towards designing with stripes though I myself don't favour stripes in things I purchase.
This design I wanted to have stripes against gradating background colours. My initial idea was the stripes to be solid colors, however, while creating, I ended up isolating some of them and using a complimentary gradient. I wanted the bottom stripes to create weight on the bottom part of the design so I kept them all the same size, and the thickest.
I now have a design which gives me thousands of color combination opportunities :-) Below is a small sampling of what is already available of my latest Gradient Stripes selection in my
Graphic Design Category
. As usual, I tend to design with throw cushion in the forefront of my mind.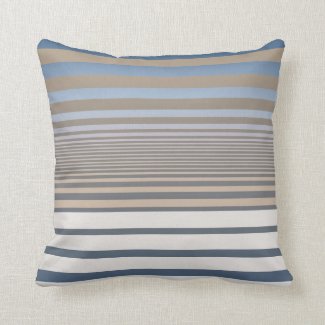 Calming Blue and Tan Gradient Stripes
by
artbyjocelyn
Find another
Zazzle Pillow
Bright Green Burnt Orange on Grey Gradient Stripes Throw Pillow
by
artbyjocelyn
Browse more
Stripes Pillows