Product Quality: Excellent
Print Quality: Good Recommended: Yes
Recommended for: Anniversary Shipped on time: Yes
About the product:
It is not very often you can find a perfect card for a very special occasion first try - but this is what happened to me. There is not a parrot lover out there that would not love giving or receiving this card!
About the print:
The photo looks a bit different in real life than it did on my computer screen. More like a painting than a photo - but very beautiful and lovely.
_______________________________________________________________
Wow, how nice to run across and I am so happy someone loved this card enough to purchase it for an anniversary!
I feel bad that she expected a photo photo but at the same time the comments made me happy because my intent for this image had worked, they just were not expected. So, I learned something - describe my effects used and what they create in my images :-)
The filters I used and enhancing and manual work I did in Photoshop on my original (boringish) photo, that had a busy background, made the photo have the slight appearance of a realistic oil painting effect, which I had wanted, and visibly to me it appears that way on my computer. However, I realize to someone else, it may not strike them that way. Soooo, I learned to be Way more specific!
Thank you to my buyer and I am glad that the card was so well received!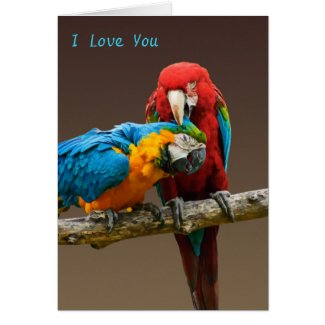 Parrots Love Gold and Blue Macaw Scarlett Macaw Greeting Cards
by
artbyjocelyn
View more Pair of macaws Cards at
zazzle.com