Recently having sold a couple sets of one of my wedding invitation designs, I got inspired to create some new ones. Invitations take some time, and although people obviously would want to alter the text and info in them, I take time to try to have text on them that is appealing despite that ..... just ..... well, Because :-)
I realized that I didn't quite approach my wedding invitations correctly. I didn't make RSVP cards at first! How the heck did I expect anyone to get much out of them if their guests can't reply, and just Where did I think they'd find a matching RSVP card hmm? lol! So, I created ones to match the invitations that sold. Glad I did because someone who purchased the invites did purchase matching RSVPs.
One thing about me is I prefer personally, simple, clean and not too over the top crazy image wise or wording wise. I tend to design like that. I don't tend to investigate trends, though I have checked into what info generally is expected to be found on a wedding invite, but design just from a concept and personal taste. Most of mine I have so far remained more in the casual vein design and style wise.
One that I designed most recently, I decided to try for more of a classy, elegant yet still clean and simple design. One photograph that I shot a couple of years ago, which was a bouquet of flowers left on a bench at a pier, in memorandum for a loved one, at Easter, who must have enjoyed walking to the pier, just as my partner and I do, during their life. Rain had obliterated the writing on the card however. I took some shots of it. Two years later, I have worked with one of these shots to create an image that can be used on invitations, cards, etc. I wanted a soft fade as opposed to just a straight edge where the text would be going. I used a mask to get this with a transparency being created to the one edge. That way I could save the image as a PNG and any colour background could be underneath it. I wanted black.
I wanted a curvy line underlining the text as I felt it just Needed something else. I tried drawing it with a mouse (I don't have a tablet or stylus) but it was too yucky. I got the idea to use a Shape and if needed, erase parts of the shape to leave only a single line from it. I was able to do that, giving me a nice swooshy script like line :-) I also saved a PNG of this to use.
For interest, I have added a screen capture of my Photoshop file where I created this image which I have then used to design the card I also have shown here, front and back. I am happy with my design.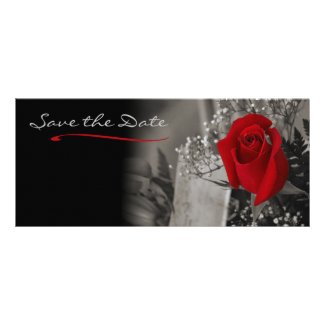 Elegant Red Rose Black and White Save the Date
by
artbyjocelyn
Get
quick invitations
online at Zazzle.