I decided to try my hand at a sort of humorous, cute Halloween Party invitation!
I will admit, even as a child, I was not a big fan of Haloween, didn't like knocing on strangers' doors, etc. but loved dressing up my kids for their Haloween nights when they were little. Their Dad took them out while I dressed up and gave out candy. The kids would come home and immediately want to take over answering our door and handing out goodies. My daughter would hoarde her candy but my son didn;t really care so much about it, leaving it sit for months lol!
Here's the cover of the Halloween card. Inside is a cute sort of poetic little story, leading to the buyer's specific details, which can be personalixed/
I chose to use a greeting card as opposed to an invitation template as the paper is most likely glossier and better on a card. Also available cheaper as a larger order, and as a note card size.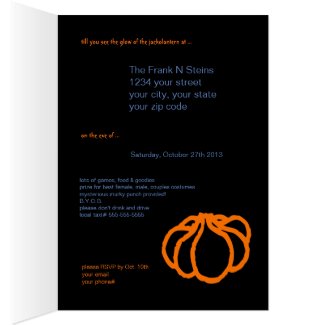 Funny Poetic Halloween Party Invitation Card
by
artbyjocelyn
See other Halloween Cards at
zazzle