In the last little while, I've been having fun designing abstract graphic patterns. I'm not an abstract painter, never was and never will be, but with digital, it's a whole different thing! With digital, I can begin with stripes, etc. that I lay out, choose colors I want (often personally like I will admit) and then I can use layers to try various patterns, textures, a zillion things, and see what I get! What I get is often much more exciting then my mind would be able to imagine and render manually.

Some of the results are below. There are some specific color combos, for example; Mediterranean, Scandinavian, Mexican, Southwestern. There are Millefiori mimicking patterns (a total happy accident), weird graphic square and brush stroke patterns, stained glass quilted look textile shapes, as well as some simple stripes with stain glass filter textures.

As I have time (as it is limited) I will make these graphic patterns available on as many products as I feel they suit.



Peacock Blue Mauve Pink Abstract Texture Pattern Throw Pillow
by
artbyjocelyn
Find other Pink peacock blue purple Pillows at
zazzle.com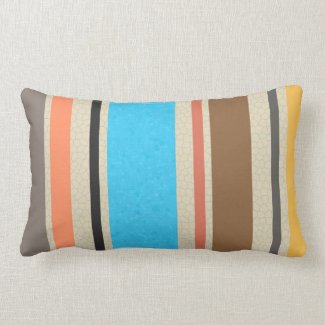 Mediterranean Colors Stripe Stained Glass Texture Pillow
by
artbyjocelyn
Browse Zazzle for a different
throw pillow
.
Peacock Green and Red Brush Stroke Layered Squares Messenger Bag
by
artbyjocelyn
Browse Zazzle for more
courier bags
.
Mexican Colors Graphic Stain Glass texture Striped Throw Pillows
by
artbyjocelyn
Browse more Mexican color scheme Pillows at
Zazzle
Turtle Shell Stained Glass Graphic Shapes Pattern Courier Bags
by
artbyjocelyn
Check out other Turtle shell pattern Messenger Bags at
zazzle.com
Scandinavian Color Scheme Red Blue Stripes Texture Pillows
by
artbyjocelyn
Look at other Scandinavian colors Pillows at
zazzle.com